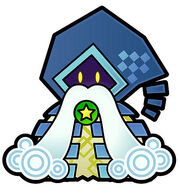 Merlon appears in The Flip Flop Show, living in the town of Flipside (This residence makes him appear rather angular and strange). Similar to the Merlon in Paper Mario: The Thousand Year Door, this may be a different Merlon. This Merlon has perhaps the most central role in the show out of the previous ones. He tells Bleu the prophecy of the Light Prognosticus and provides the first Pure Heart of the show. He has a distant cousin living in Flopside whose name is also Merlon; however, the Flopside Merlon suggests to Bleu that to tell the two apart he be called Nolrem. He also gets a quick mention when Muffy is tattling Bestovius.
According to Carson, the The Flip Flop Show version of Merlon once fell in love with Saffron the cook. He went to her cooking shop each day and wooed her constantly. One day, he finally confessed his love to her. She said that if he finished a Saffron Special Galactic meal (one of the biggest, most filling dish anyone had ever seen), she would believe in his love, and so he dug right in. Spectators say he finished all but a little bit of parsley left on the plate. Suddenly, a poor, injured girl entered the town. Merlon had to help her, so Saffron suspended the challenge for him. He had become engrossed into his studies ever since, and he never got the chance to go back to the challenge.
Merlon's Catch Card can be found in one of the holes in the Flipside first floor outskirts, as can the Merluvlee card.